View gallery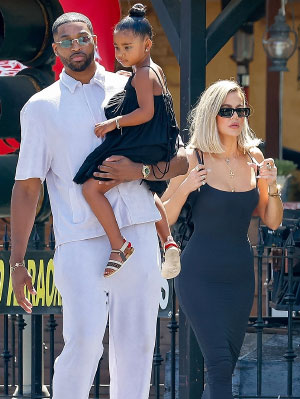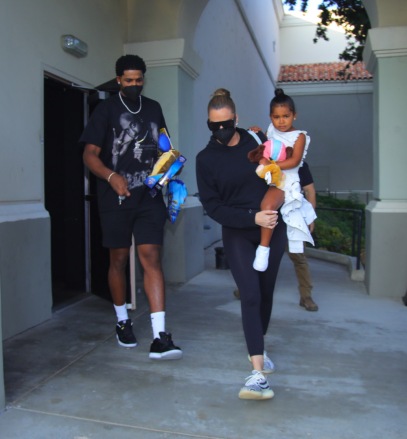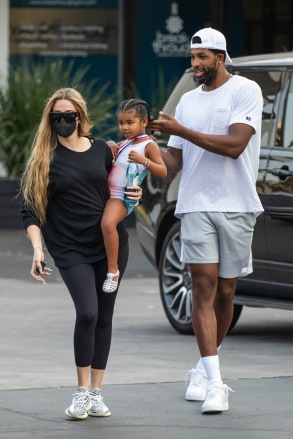 Image Credit: BACKGRID
Khloe Kardashian was adamant that she would not be getting back together with Tristan Thompson on the June 8 episode of The Kardashians, which was filmed in Sept. 2022. In one scene, Khloe was caring for her and Tristan's newborn son, Tatum Thompson, when she got a visit from mom Kris Jenner. Kris inquired about how Khloe and Tristan were doing following their Dec. 2021 split, which happened after Khloe found out that he had cheated on her and fathered a child with another woman (Khloe and Tristan's surrogate was already pregnant with Tatum when this paternity scandal broke).
"Tristan and I…we always get along great," Khloe admitted. "Him and I have a great friendship relationship. We get along fine and for my kids I'll put anything to the side. What's done is done, so why would I still be holding onto something for? I don't need to punish him because I'm not getting back with him."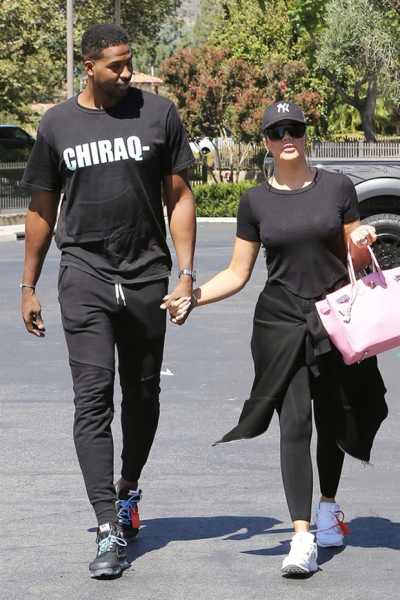 Khloe and Tristan out together. (BACKGRID)
Kris told Khloe that she had stopped by the house a few days prior and saw Tristan there with his and Khloe's daughter, True Thompson. "When I'm not here and not around, he's here," Khloe confirmed. "I'd rather him be here than a nanny." However, she added that she has "boundaries" in place for Tristan, and that they don't hang out alone. "I definitely put my foot down on a lot of things," she admitted. "No one's here just chilling if there's no kids involved."
In a confessional, she added, "These boundaries are so important to put into place with Tristan because we've done this song and dance a handful of times already. I've gotten back with him after a cheating scandal. I don't know if Tristan is under the impression of, 'Oh, wow, let's ride this out and eventually she'll get back with me.' I get why he would think that [because I have before], so it's my job to set boundaries so that my actions show otherwise."
Khloe explained to Kris that "it's always about the kids" when it comes to her relationship with Tristan. "We're not just hanging out by ourselves or watching TV," she said. "I keep it very short and sweet and I make sure he knows it's all about the kids. It's so easy to fall back into, 'Let's watch a game.' I can't let those old habits come into my life. It's just not what I want."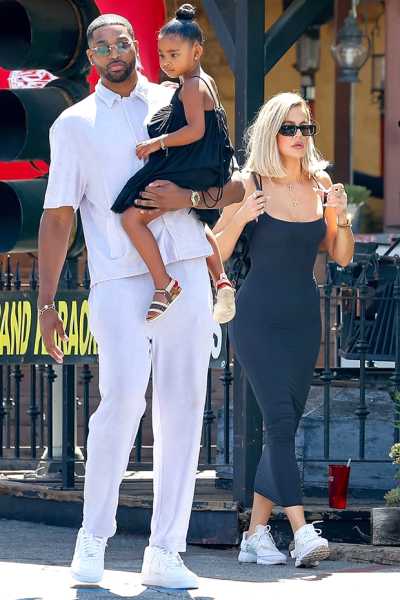 Khloe and Tristan out with True. (BACKGRID)
In Jan. 2023, just months after this episode filmed, Tristan learned that his mother had died unexpectedly. Khloe supported him and his family in the aftermath of the tragedy. However, she has continued to publicly make it clear that she is single and not back with Tristan.
Meanwhile, Khloe has also been open on The Kardashians about how hard the surrogacy process was for her with Tatum. She expanded on that in this week's episode. "When you compare it with him and True [who I gave birth to], it's a very different experience," Khloe admitted. "The connection…like, with True, it took me a couple days to be like, 'Okay, this is my daughter' and I was super into it. Just days. With him, it's taken months. I love him and I love kids, but I still don't have that complete bond."
Khloe said that she sometimes feels "guilty" for not bonding with her son the same way she did with True. "I don't treat him differently, I just question myself sometimes," she shared. Kris urged Khloe to "give [herself] a break" once in a while and promised her that she was an incredible mother. At the end of the day, Khloe was thrilled with her role as a mom, even though it came with struggles. "I wish I wasn't so critical of myself," Khloe said. "I'm very kind to everyone else, I'm just not very kind to myself. But being a mom is truly one of the most magical experiences ever."
Click to Subscribe to Get Our Free HollywoodLife Daily Newsletter to get the hottest celeb news.
View Related Gallery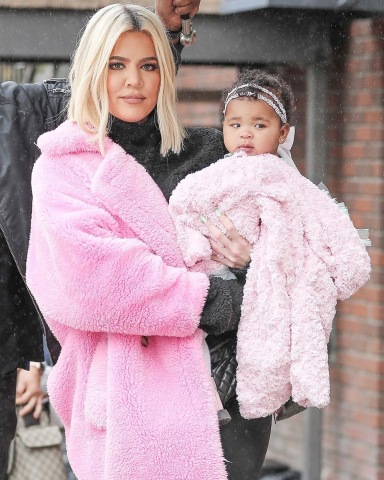 *EXCLUSIVE* Calabasas, CA – Khloe Kardashian puts the Tristan Thompson and Jordyn Woods cheating drama to the side to take her daughter True out for lunch. Khloe stands out in a bright pink coat for the outing. This is the first time Khloe has been seen out since Jordyn Woods appeared on Jada Pinkett Smith's "Red Table Talk" show to discuss the cheating scandal. Shot on 03/02/19 Pictured: Khloe Kardashian BACKGRID USA 3 MARCH 2019 USA: +1 310 798 9111 / [email protected] UK: +44 208 344 2007 / [email protected] *UK Clients – Pictures Containing Children Please Pixelate Face Prior To Publication*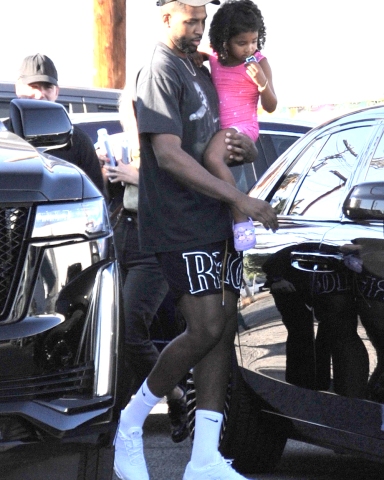 Tristan Thompson is seen leaving with True after dance class in Los Angeles. Pictured: Tristan Thompson,True Thompson Ref: SPL5332795 160822 NON-EXCLUSIVE Picture by: PhotosByDutch / SplashNews.com Splash News and Pictures USA: +1 310-525-5808 London: +44 (0)20 8126 1009 Berlin: +49 175 3764 166 [email protected] World Rights
Sourse: hollywoodlife.com