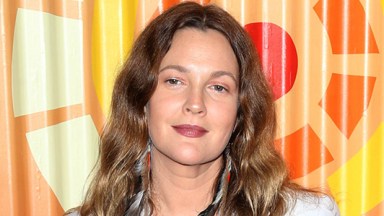 Image Credit: Broadimage/Shutterstock
Drew Barrymore, 48, is taking "accountability" for her decision to resume production of her talk show, The Drew Barrymore Show, amid the ongoing SAG-AFTRA and WGA strikes. The actress and TV personality took to Instagram on Sept. 15 to share an emotional video to publicly apologize for her decision to resume the show despite the massive strikes in the entertainment industry.
View this post on Instagram
"I believe there's nothing I can do or say in this moment to make it OK," she said at the start of the four-minute video. "I wanted to own a decision so that it wasn't a PR, protected situation. And I would just take full responsibility for my actions. I know there's just nothing I can do that will make this OK for those that is not OK with. I fully accept that. I fully understand that." The tearful clip comes just five days after she announced that her show would resume production and amid backlash from that choice.
The mother-of-two went on to explain that "there are so many reasons why this is so complex," in reference to her decision to return to work. "I just want everyone to know my intentions have never been in a place to upset or hurt anyone. It's not who I am," Drew went on. She addressed the "many ups and downs" in her life and noted that this situation is "one of them." The Charlie's Angels star then went on to apologize to those who were affected by her decision.
View this post on Instagram
"I deeply apologize to [the] writers. I deeply apologize to unions. I deeply apologize," she said before she took a long pause amid fighting back tears. "I don't exactly know what to say because sometimes when things are so tough, it's hard to make decisions from that place." She clarified that her purpose of the video was to "accept responsibility," following the backlash.
"And no, I don't have a PR machine behind this, my decision to go back to the show. I didn't want to hide behind people so I won't," Drew continued. "I won't polish this with bells and whistles and publicists and corporate rhetoric. I'll just stand out there and accept and be responsible." Later, she explained "why" she chose to resume the show amid the strikes.
"Why am I doing this? Well, I certainly couldn't have expected this kind of attention, and we aren't going to break rules, and we will be in compliance," Drew explained to her 17.3 million followers. "I wanted to do this because as I said, this is bigger than me. And there are other people's jobs on the line." The Wildflower author went on to share that if the show could resume amid the COVID-19 pandemic she assumed it could go on amid the strikes.
"I thought if we could go on during a global pandemic and everything that the world is experienced through 2020, why would this sideline us?" she added. "So, I want to just put one foot in front of the other and make a show that's there for people regardless of anything else that's happening in the world because that's when I think we all need something that wants to be there, being very realistic in very realistic times. So that is my why."
Drew's latest video comes less than one week after she shared a statement via Instagram regarding her decision to resume production. "I am also making the choice to come back for the first time in this strike for our show, that may have my name on it but this is bigger than just me. I own this choice, she penned last week. "We are in compliance with not discussing or promoting film and television that is struck of any kind. We launched live in a global pandemic. Our show was built for sensitive times and has only functioned through what the real world is going through in real time." She concluded the note by declaring that she will begin Season 4 "with an astute humility."
Sourse: hollywoodlife.com