Already well known in their own rights, actor Austin Butler and model Kaia Gerber made headlines as a pair when their unlikely romance became public in 2021. Now, more than one year later, they are still going strong.
From their first trip together to their recent holiday vacation with Gerber's parents, see the biggest highlights from Butler and Gerber's relationship.
December 2022: They take a romantic trip to Mexico.
The pair ring in the New Year with a holiday trip to Cabo San Lucas, Mexico, alongside Gerber's family, Entertainment Tonight reports.
During the vacation, Gerber is seen serving as Butler's muse while posing in a bikini inside a pool as Butler snaps shots of her.
The two later go out on a lunch date with the model's parents, former supermodel Cindy Crawford and businessman Rande Gerber, as well as brother Presley Gerber.
December 17, 2022: Gerber supports Butler on SNL.

The model arrives in New York City to support Butler during his Saturday Night Live hosting debut, where she is also reportedly joined by her parents. She wears a purple minidress with a longline black leather coat for the occasion.
View full post on Youtube
August 15, 2022: They go on a sweet lunch date.
The couple are spotted out and about in off-duty ensembles for a sweet lunch date at The Oaks Gourmet Market & Cafe in Los Angeles. They later share a kiss while walking to their cars.
July 28, 2022: Gerber appears in Butler's photo shoot.
The model makes a steamy, subtle cameo in Butler's Elvis-inspired photo shoot for V Magazine's VMAN, where she poses with her arms wrapped around the actor's body. (Gerber's signature arm tattoo is revealed in the shot, confirming her identity.)
View full post on Instagram
May 25, 2022: Butler shuts down questions about their relationship.
The Elvis actor clarifies his boundaries on privacy regarding his relationship with Gerber during a profile interview with GQ.
"I don't think there's anything I want to share about that," he says when questioned about their romance. "But thank you for providing the space."
The actor also shares his strong feelings against the paparazzi, as well as his out-of-sight, out-of-mind philosophy toward all the buzzy photos of him and Gerber.
"I go, 'If I don't see the picture, then it doesn't really exist to me,'" Butler explains, while adding, "I don't want to be really negative, but there's hardly any job I despise more than paparazzi."
May 25, 2022: Gerber supports Butler at the Cannes Film Festival.
The model joins Butler as his plus-one at the 75th annual Cannes Film Festival on the French Riviera for the red-carpet premiere of the actor's starring film, Elvis. The two pack on the PDA in multiple shots throughout the event.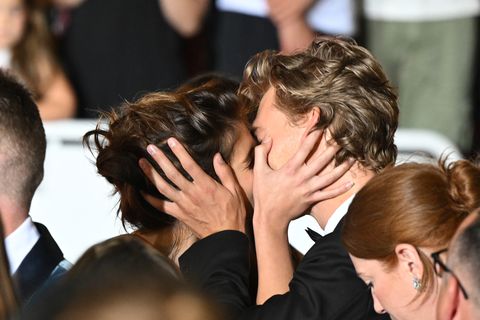 Stephane Cardinale – Corbis//Getty Images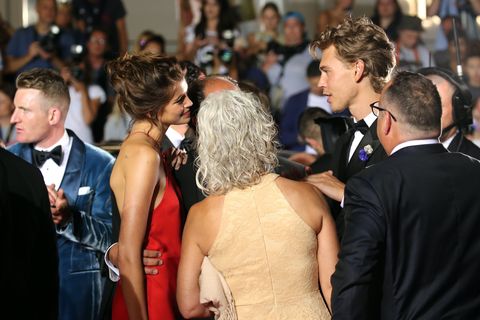 Gisela Schober//Getty Images
May 2, 2022: They make their red-carpet debut.
In their first major red-carpet appearance as a couple, Butler and Gerber show out at the Met Gala looking smitten while posing together in Gilded Age ensembles for the fashion event's "In America: An Anthology of Fashion" 2022 theme.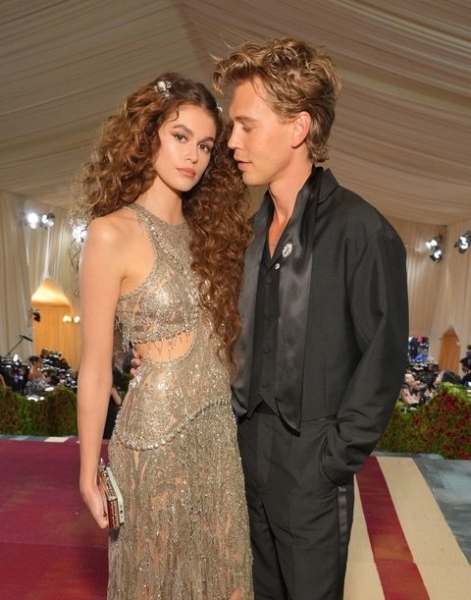 Kevin Mazur/MG22//Getty Images
The two are previously spotted at W Magazine's pre-Oscars Best Performances party on March 24, where they are seen leaving the event together.
March 22, 2022: They jet off to Paris.
The model and actor take a romantic couple's trip to the City of Love, where the two are captured leaving their hotel in Paris, per Daily Mail paparazzi images.
February 14, 2022: They celebrate Valentine's Day overseas.
Butler and Gerber jet off to London for their first Valentine's Day as a couple, according to Just Jared.
December 19, 2021: They spark initial romance rumors.
Just one month after Gerber's confirmed split from actor Jacob Elordi, she and Butler are spotted attending a yoga class together in Los Angeles in their first documented outing, spurring initial rumors of their new romance. The two walk side by side in workout gear and masks before heading out together in Gerber's car, per photos obtained by Daily Mail.
"She seems really happy," an insider tells People of Gerber's rumored new romance with the actor. "All of her friends think [Butler]'s really cute."
Days later, on December 22, E! News shares exclusive photos of the two arriving and unloading their bags at the airport in Los Angeles, further confirming the romance rumors.
In January, an ET source confirms the two are dating.
"Kaia and Austin are seeing each other. They're getting to know each other better and having a lot of fun hanging out," the insider tells the outlet. "They're very sweet and affectionate with each other and it feels comfortable between the two of them."