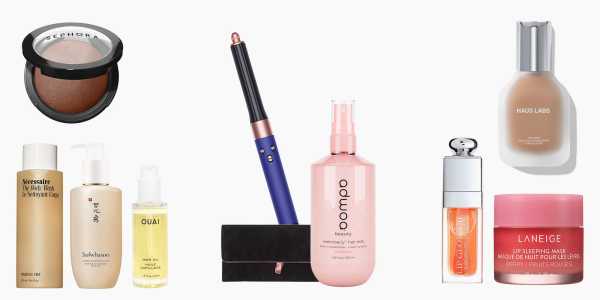 'Tis the season to treat yourself—and others. Thankfully, Sephora's Holiday Savings Event is back to remind us that there is no such thing as having too many beauty products. With the holidays quickly approaching, there has never been a better moment to give your mother the Dyson Airwrap she keeps using secretly when you're not around, your spouse their very own body wash, and your sister the designer scent she's been stalking online. As for you, well, surely your basket is already packed to the brim with goods from your wish list, and Sephora made it simple for you to check them off one at a time.
The much-anticipated sale starts today, October 28, for Sephora Rouge members who will receive 20 percent off their entire purchase. On November 1, VIB members will join the fold with 15 percent off their purchase while Insider members start saving on November 3 with 10 percent off. Everyone will be able to enjoy major savings from Sephora Collection with 30 percent off in-store and online. All sales for all membership tiers end on November 7. The code for all membership discounts is SAVINGS.
If you're not a Sephora Insider, fear not—the program is free to join. Even better, Sephora is giving all membership tiers free shipping, regardless of your purchase amount. Scrolling helplessly through Sephora's pages takes forever, so here are 20 items you should add to your cart immediately if not sooner.
Advertisement – Continue Reading Below
1
Best Face Powder
Sephora Collection
Microsmooth Multi-Tasking Baked Face Powder
$20 AT SEPHORA
This face powder works well on its own for a subtle enhancement on the days you simply don't want to do the most, or as a topper to seal your entire makeup look. It's lightweight but still provides buildable coverage.
2
Best Multi-Styler
Dyson
Special Edition Airwrap™ Multi-Styler Complete Long
$599 AT SEPHORA
$600 AT ULTA BEAUTY
If all the TikTok reviews haven't convinced you to purchase the Dyson that you've been contemplating for ages, surely a nice percentage off will do the trick. This limited-edition version comes with a sleek travel pouch, so you can show it off on your vanity.
3
Best Lip Oil
Dior
Lip Glow Oil
$35 AT SEPHORA
You'll want to act fast on this one—Dior's cult-favorite Lip Oil never stays in stock for long, and for good reason. The high-shine lip oil sits comfortably on the lips and soothes dryness, too.
4
Best Everyday Body Wash
Nécessaire
The Body Wash
$25 AT SEPHORA
$40 AT NORDSTROM
Necessaire's popular body wash has niacinamide and rich vitamins to prep the skin for the day ahead. You can choose from scents like sandalwood, eucalyptus, and bergamot, or stick to the fragrance-free version.
5
Best Candle
FORVR Mood
Thirst Trapping Candle
$38 AT SEPHORA
Forvr Mood candles have a throw so strong, you'll never want to blow them out. Here's a scent that feels as fresh and bright as a spring morning, thanks to fruit notes like watermelon and pineapple.
6
Best Color Palette
Danessa Myricks Beauty
Lightwork Vol. IV: Transcendence Palette – Illuminating Eye & Face Pigments
$125 AT SEPHORA
If you've grown tired of neutral matte palettes, Danessa Myricks' latest innovation will stop you in your tracks. You can just look and marvel at its beauty, but this palette is meant to be touched. These pigments offer full coverage with just one swipe, and some are water-activated for the liner experts out there.
7
Best for Blowouts
JVN
Complete Blowout Styling Milk
$29 AT SEPHORA
We all strive for hair as gorgeous and bouncy as JVN himself. Good thing he gave us the formula. This lightweight styling milk reduces frizz and protects hair from heat damage with no greasy residue left behind.
8
Best Lip Mask
Laniege
Lip Sleeping Mask
$24 AT SEPHORA
Wake up to the soft, plump lips of your dreams by applying this nourishing lip mask before bed.
9
Best Body Butter
Fenty Skin
Butta Drop Whipped Oil Body Cream
$42 AT SEPHORA
$55 AT WALMART
Fenty Skin updated its OG formula for the holidays, but this version needs to stick around longer. The limited-edition butter has a subtle gold shimmer and smells like a warm bakery. Need I say more?
10
Best Deep Conditioner
Amika
Soulfood Nourishing Hair Mask
$30 AT SEPHORA
$25 AT WALMART
Reverse dryness and dullness by treating your hair with this Amika mask. A blend of oils and vitamins work together to restore elasticity, add softness, and repair damage.
11
Best Cleansing Balm
Farmacy
Green Clean Makeup Removing Cleansing Balm
$34 AT SEPHORA
$29 AT QVC
For cleansing oil-averse folks, Farmacy's makeup-removing balm works hard so you don't have to. As the name suggests, a scoop of this balm melts away makeup so well, you'll immediately become a fan.
12
Best for Dry Skin
Skinfix
Barrier+ Triple Lipid-Peptide Face Cream
$50 AT SEPHORA
$52 AT QVC
With the winter fast approaching, here's a heavy-duty cream to help you get ahead of seasonal dryness. Skinfix's Barrier+ cream hydrates and plumps the skin with hyaluronic acid, peptides, shea butter, and more.
13
Best Hair Milk
adwoa beauty
Melonberry Hair Milk Leave-In Conditioner
$24 AT SEPHORA
Great smelling hair is a plus, but healthy hair is most important. Adwoa Beauty's new Melonberry Hair Milk gives you both in a cute pink spray bottle. Your strands will feel quenched and soft and edible (but please don't go there).
14
Best Everyday Foundation
Haus Labs by Lady Gaga
Triclone Skin Tech Medium Coverage Foundation
$45 AT SEPHORA
Haus Labs rebranded in a big way with a slew of gems, including its expansive foundation range. This foundation offers medium coverage and is formulated with skincare ingredients to protect the skin while you live your best life.
15
Best Body Oil
Tatcha
Hinoki Hydrating Body Oil
$58 AT SEPHORA
Tatcha entered the skincare game with a range that takes you on a sensory ride. The standout is easily the Body Oil, which feels as smooth and buttery as silk pajamas and keeps the skin smooth throughout the day.
16
Best Repair Serum
Olaplex
No. 9 Bond Protector Nourishing Hair Serum
$28 AT SEPHORA
$27 AT WALMART
$90 AT QVC
You knew Olaplex would be on this list. Why? Well, not too many hair serums can revive dry ends and limp strands the way No. 9 Bond Protector does.
17
Best Hydrating Cleanser
Sulwhasoo
Gentle Cleansing Foam Hydrating Makeup Remover
$38 AT SEPHORA
I want to thank this Sulwhasoo cleanser for seamlessly removing my makeup on the days I couldn't find the energy to do so myself. This K-beauty gem hydrates while cleansing so your skin doesn't feel stripped post-rinse.
18
Best Multi-Purpose Hair Oil
Ouai
Hair Oil
$28 AT SEPHORA
$49 AT WALMART
$28 AT ULTA BEAUTY
Ouai's hair oil is beloved by so many because it does the work. Not only does it ward off frizz—it smoothes flyaways, keeps hair moisturized, and smells damn good.
19
Best for Discoloration
Hyper Skin
Hyperpigmentation Treatment Superstars Duo
$39 AT SEPHORA
Fans of Hyper Skin's vitamin C serum now have a gentle cleansing gel—an equally powerful partner to fight discoloration and dullness.
20
Best Gentle Cleanser
Youth To The People
Superfood Antioxidant Cleanser
$12 AT SEPHORA
$56 AT WALMART
$12 AT NORDSTROM
All we want in life is a cleanser that is gentle yet effective enough to wash the day away. Youth to the People's fan-favorite cleanser does exactly that while nourishing your skin with superfood extracts—including kale and spinach—in case you skipped out on your green smoothie that particular morning.
Source: www.elle.com