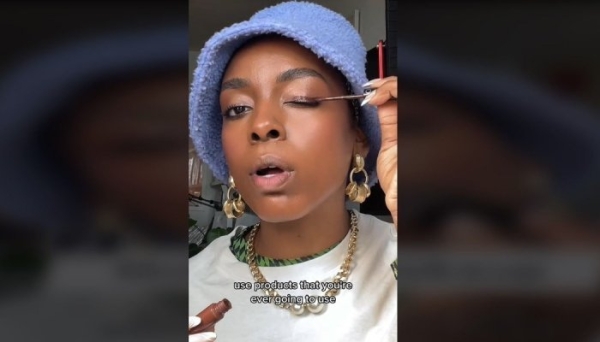 'Multi-use makeup', TikTok's latest viral beauty tip, which has now racked up over seven million views, involves using just one product for your entire beauty routine. According to its promoters, it's a time- and money-saving hack, which also helps to protect the environment by banishing a whole load of plastic from the bathroom.
Lipstick makes a comeback
User @EhlieLuna, with over 35,000 followers, is the creator of one of the most viewed multi-use makeup tutorials on TikTok. In this short video, we see her crafting her entire beauty look with a single product, in this case a matte liquid lipstick from Sephora. And contrary to what you might think, the young woman doesn't just use it to enhance her lips, but also uses it as eyeshadow and blush.
This trick hasn't gone unnoticed, and has even gained quite a following with a lot of positive reactions about the beautiful result, and the fact it can also be a means to save time and money while consuming less plastic.
A word of warning, however: not all cosmetics are designed to be applied anywhere on the face and body! Some sensitive areas, such as around the eye, require suitable products.
Product hacking, a fad on social networks
This is by no means the first time that users of a social network have used a beauty product, or any other object, for something completely different from its intended function. In recent years, TikTokers have got creative using a lip pencil to create a smoky eye, swapping their primer for lube, using an eyebrow pencil to get the perfect shade of lipstick, or using a blush to camouflage under-eye bags and dark circles. All these tricks have not only gone viral, but have also been adopted by many brands, including beauty giants.