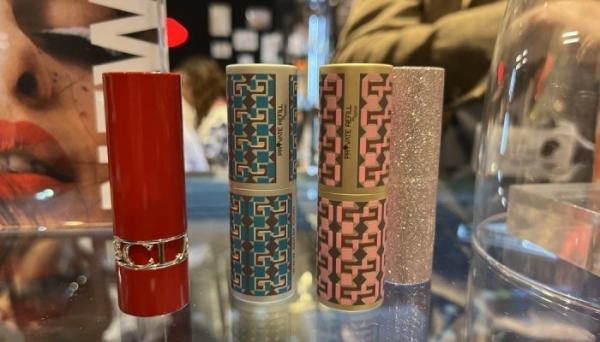 At this year's event, which once again featured a mix of makeup and skincare products, some 150 exhibitors unveiled their innovations to almost 4,600 visitors. Hybrid and multifunctional products still prevailed among new developments, alongside the relentless quest for ecodesigned packaging, naturalness, and high-performance formulas.
The search for a reduced footprint
Packaging-wise, recycled, recyclable and refillable solutions abounded, and emerging trends were noted in each category.
Brivaplast took up the challenge of creating a refillable mascara! Probably one of the most difficult products to deal with when it comes to packaging reduction, because refilling involves replacing the entire product, i.e. the formula / wand / wiper / brush combination. At MakeUp in Paris, the Italian company showcased a tube that can be moulded from recycled materials and is fitted with a removable, flexible inner refill. The formula is created by Ancorotti. In terms of weight and components, the final product more or less equals two standard mascaras, but it still saves 25% in CO2 emissions when it is refilled. The innovation also lies in the security of the refill opening mechanism, which needs to be inserted into the case to be able to remove the brush, so the refill cannot be used on its own. "There is a huge demand from brands for mascara refills. They expect solutions," says Marco Roda, Business Development Manager at Brivaplast.
Although it is still tricky to actually recycle mascara and most other makeup products due to their size, smaller than the requirements of sorting processes, the innovation approach focused on recyclable mono-material products anticipates future regulations.
Other mascara innovations included Pibiplast's DUE tube, which is made up of two parts instead of four. The neck of the bottle acts as a wiper, and the cap and wand are moulded in one part. The whole product is made of PP to make recycling easier.
Libo Cosmetics created a Venus lipstick 100% made from aluminium, including the mechanism and refill, making it theoretically 100% recyclable.
As for Aptar, they also banked on a mono-material product with a new refillable lipstick tube made exclusively from polypropylene (PP). The manufacturer also showcased a new version of its refillable lipstick Private Refill, now endowed with enhanced decoration. It is secured with a unique, customisable key, so the brand ensures the exclusive use of its refills.
As for compact cases, Metapack aimed to refocus desirability on the object itself, with a premium, refillable, 100% Zamak version developed for Fara Homidi. The supplier is also behind the plastic-free cap developed for La Bouche Rouge perfumes, in partnership with Pujolasos for the cork insert.
Among the many solutions presented by HCP was the refillable Dial Compact case, made exclusively from recyclable PET. The gesture of this patented solution makes it possible to insert the refill in a twist, from the bottom.
Livcer has increased the performance of its 83% paper-based thermoforming solutions for a greater capacity. Moreover, the company now offers a range of samples for pressed powders.
High performance and naturalness
Alongside packaging suppliers and application solutions, formula manufacturers were largely represented at the show. They revealed an intensive quest for new textures and enhanced performance with high naturalness levels.
MS BeautiLab won an IT Award in the formulation category for its Super Nova Green injection powders formulated with 99% of ingredients of natural origin and Cosmos Natural-certified raw materials. These creamy powders are free from microplastics, talc, silicones, and film-forming agents.
MS BeautiLab's Skin Fusion innovation is also worth noting: particular attention was paid to the formula/packaging combination. The right dose of an anhydrous formula made up of 99% of ingredients of natural origin is laid down on technical paper for one serum or eye contour application. Once delivered and applied, the transformation formula melts into the skin. Skin Fusion boasts a sustainable approach, both for its formula and fully recyclable paper packaging. The on-the-go solution enables to customize routines with a targeted choice of actives.
Aircos, a company of the Anjac Health & Beauty group, received the jury's "Coup de cœur" award for its Hypnotic Very Noir eyeshadow, which features a creamy powder texture and a metallic black-gold effect to shade or mix colours.
Fiabila presented its Do Not Disturb odourless formulas. "To achieve this result, over 45% of the formula was modified," explains CEO Pierre Miasnik. The entire solvent formula and the dispersion were reviewed to minimise the product's smell on application, while maintaining ease of application, excellent coverage, shine, and long wear. Another advantage is that the varnish can be scented for an even better customer experience. This innovation obviously targets customers who do not like the smell of nail varnish, particularly in Asia.
The nail specialist also highlighted reactive varnish which lasts for eight days thanks to polymerisation involving the addition of a reagent to varnish based on oligomers. The application gesture is exactly the same as for traditional varnish and top coats.
IL Cosmetics developed the new Demi Matt Plumper, a lip gloss with natural pungent actives for a plumping effect, as well as the Lip Gloss Nails Manicure concept in line with the glow boom in nail care. New, deeper shades are given added shine with the application of two top coats which can be powered with skincare actives. Also among the manufacturer's many new products was the Naturally Tubing mascara, which can be removed with lukewarm water and is made from over 80% of ingredients of natural origin.
In the skincare category, Technature showcased travel-size, waterless freeze-dried make-up-removing beads containing a prebiotic, as well as a collection of skincare products in the form of sticks: a mask, an eye contour, a foaming cleanser, a two-phase emulsion stick and a non-oily oil-stick.
Portfolio