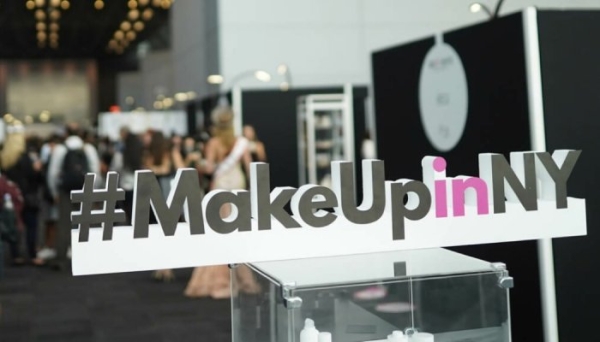 The upcoming edition of MakeUp in NewYork is locked in for September 20 and 21 at the Javits Center in a context of continuous growth for the beauty sector, with prestige beauty industry sales up 15% during the first half of 2023 versus the same period in 2022, and mass beauty market expanding by 9%, according to Circana.
This year's edition will host 143 international exhibitors, including 30% new participants, from 15 countries (Canada, China, France, Germany, Hong Kong, Italy, Japan, Luxembourg, Peru, Poland, Singapore, South Korea, Taiwan, Thailand and the United States),.
According to the organizers, the show will welcome a growing number of registered attendees, including the participation of renowned skincare and makeup brands such as Shiseido, Tarte Cosmetics, Victoria's Secret Beauty, MAC Cosmetics, Estée Lauder, Sisley Paris, Unilever, Haus Labs, Glossier, Clinique, Bath & Body Works, Benefit Cosmetics, Anastasia Beverly Hills, Chanel, L'Oreal, Kendo Brands, About Face, Ilia Beauty, Victoria Beckham Beauty, Rare Beauty, Jeffree Star Cosmetics, Doll 10 Beauty, Tubby Todd Bath Co…
The show will also host a span of special events:
Ewelina Aiossa
For this 2023 edition, MakeUp in NewYork is welcoming Ewelina Aiossa as an Ambassador. Co-founder of Clinical Skin, a line of professional-grade skincare and facial tools, Ewelina Aiossa is a beauty connoisseur: an expert in scientific skincare and medical marketing, she is also a renowned brand architect. She has worked for notable companies including L'Oréal, Pierre Fabre Dermo-Cosmetics and Topix Pharmaceuticals. Ewelina Aiossa participates in numerous industry conferences and is frequently quoted in consumer and trade publications, as well as podcasts.
Over the course of the two-day event, Ewelina Aiossa will speak about "Science and Efficacy at the Center of Modern Beauty Formulations and Consumer Marketing" and will provide mentorship to candidates in the new Beauty Tank, a competition to discover emerging skincare and makeup brands. As a member of the IT Awards competition's selection panel, she will present the nominees and unveil the winners on Wednesday September 20 at 9:30 a.m. Finally, as a strategic growth consultant, Ewelina Aiossa will be offering her services at stand B41.
Conferences
The conference program will provide access to extensive information on skincare and make-up, including: global regulatory compliance, the MoCRA influence on the US beauty market; materials science; suatainable packaging; waterless formulations; the rise of ingredient-led beauty; how science is transforming the vision of beauty and propelling trust; etc.
Complementing the conferences, a variety of workshops will enable visitors to renew their sources of inspiration, with topics such as: anti-ageing skincare in foundations and complexion products; market trends and regulations influencing packaging innovations; top cosmetics and skincare trends; Leaping Bunny certification, etc.
Trends On Stage
For the first time, seven top agencies and beauty trend experts (Asia CosmeLab, Beautystreams, Cosmetics Inspiration & Creation, Fashion Snoops, Mintel, Peclers Paris, and Spate) will share their vision and exclusive insights on beauty trends.
The Beauty Tank
This 2023 edition sees the launch of the Beauty Tank challenge. A selection of ten innovative skincare and makeup entrepreneurs at various stages — from conception to pre-launch — will pitch their projects "Shark Tank" style before a select committee and an exclusive audience, offering unrivaled exposure and partnership potential.
MakeUp in NewYork
September 20 and 21, 2023

Javits Center Hall 1E/1D
New York City, NY, USA

Information and registration: www.makeup-in.com/newyork/