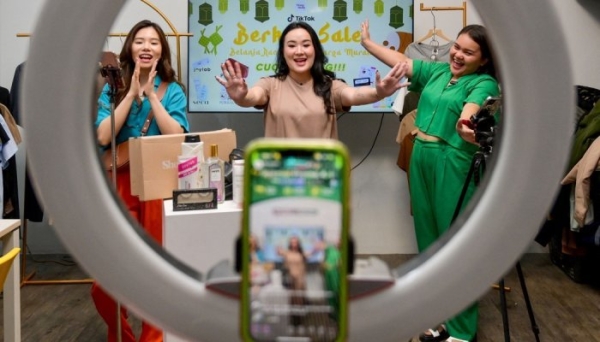 Following months of intense scrutiny in the United States and other nations over its users' data security and the company's alleged ties to Beijing, Southeast Asia is a bright spot for TikTok, owned by Chinese tech firm ByteDance. Last year more than a third of goods sold on the app in the region were in Indonesia.
Southeast Asia is a bright spot for TikTok, owned by Chinese tech firm ByteDance. The company's CEO Shou Zi Chew announced plans last week to invest billions of dollars in the region, where it counts 325 million users, of whom 125 million are in Indonesia.
Shopping on TikTok is booming in Indonesia, Southeast Asia's largest economy, where consumers spent more on the app than any other country in the region last year. As TikTok Shop grows in popularity, with Indonesians buying more than a third of goods sold in Southeast Asia over the past year, entrepreneurs are flocking to the platform to promote a range of tech, fashion and homemade products. They are drawn to TikTok's e-commerce features that allow them to sell through livestreams or open online stores.
Monomolly, a 20-strong online retail employer, reported a 30 percent increase in revenue since kicking off a TikTok livestream drive last year, according to spokesperson Nadya Paramitha.
The platform's algorithm has jumpstarted the company's business, according to employees. It has allowed sellers to "reach new markets randomly" instead of relying on interest-based search results on rival apps, said TikTok sales manager Chelvyana Onggo Winata.
Cookies and entertainment
It isn't just companies that are using the platform. DIY home streamers Panji Made Agung and his wife Astari Gita used to rely on their families to survive. But they now sell as many as 1,000 cookie jars a month through TikTok livestreams, making 25 million rupiah ($1,700).
Their viewers and sales ramped up because of their personalities, said Gita, who often flirts with her husband and makes him feel uncomfortable on camera. "We discovered selling products alone would not work. It has to touch people's emotions. It has to be entertaining," Gita said. "They like our real-life humour as a couple and Agung being awkward."
TikTok Shop has capitalised on the Indonesian market, amassing more than two million sellers since it launched in 2021.
It takes one percent commission and a charge of 20,000 rupiah (USD 1.33) for every item sold, building a growing market share against more established and bigger rivals.
Indonesia represented 42 percent of TikTok's USD 4.4 billion regional gross merchandise value (GMV) last year, according to Singapore-based consultancy Momentum Works.
Virtual conversation
Online shopper Aldi Alfarabi said he wasn't looking to spend money while scrolling through TikTok livestreams, but he often stumbled on items that took his fancy, such as a dinosaur backpack he recently bought. "There is an engaging interaction through the virtual conversation," said the 29-year-old from Jakarta. "You can see exactly what you are buying."
Experts say TikTok's Indonesia strategy is catching on with shifting shopping habits as younger customers demand more engaging experiences to open their wallets.
"Indonesia's digital market is dominated by Generation Z," said Bhima Yudhistira, an analyst from Jakarta's Center of Economic and Law Studies. "As they are more adaptive to new things, the market patterns change swiftly."
So Southeast Asian online shopping — pulled along by Indonesia — is only going one way, he said, growing into what is predicted to become a $35 billion market next year.